What is Graduate Personal Statement?
18 Jun 2018
Applying for a graduate program is filled with challenges, and the one that puzzles students the most is the personal statement. A personal statement is required by any graduate program, but you will never find any requirements or prompts coming directly from the institution. Applicants are left guessing what their personal statement should look like, but there are some universal tips for making your personal statement shine and help you achieve your academic goals.
The most important writing tip for creating a graduate personal statement is to provide the readers with great content. The graduate school admission board goes through dozens of statements every day, so think about the ways to make your writing stand out. Generalized phrases, clichéd statements, and generic reasons for pursuing a graduate degree won't get you any further. Be creative when explaining your need to pursue the degree and the results won't keep you waiting.
Determine your purpose
The main purpose of a graduate personal statement is seemingly simple: to convince the board that you can be a worthy addition to the institution. However, the exact ways to reach that objective may differ depending on the circumstances. Think about the people who will read your statement and what they want to see in a personal statement from an applicant, then use your findings in your writing.
Write not only what you will do, but what have you done
When working on a personal statement, most applicants explain in detail what they want to achieve and what they plan to do to get to their academic and career goals. Keep in mind that the board certainly wants to read about your aspirations, but they also need to know more about your past and present. Present your achievements (even custom dissertation writing counts) and show that you're a worthy candidate.
Tell about your motivation
Knowing your goals is an important requirement for the success of your aspirations, but what exactly fuels your passion? Which personalities or events have shaped you to be the motivated and driven person you are today? How do you find inspiration to continue becoming better every day? And, finally, how exactly can the graduate school help you on your journey? These are the questions your personal statement needs to provide answers to!
Strong writing
Graduate school applicants are expected to not only have outstanding proficiency in their subjects, but also a firm grasp of professional writing. Your statement needs to be coherent and completely free of grammar and spelling mistakes. If you don't trust your own proofreading skills, ask someone to do it for you. And make sure to include only the most essential information into your statement.
Don't forget to include this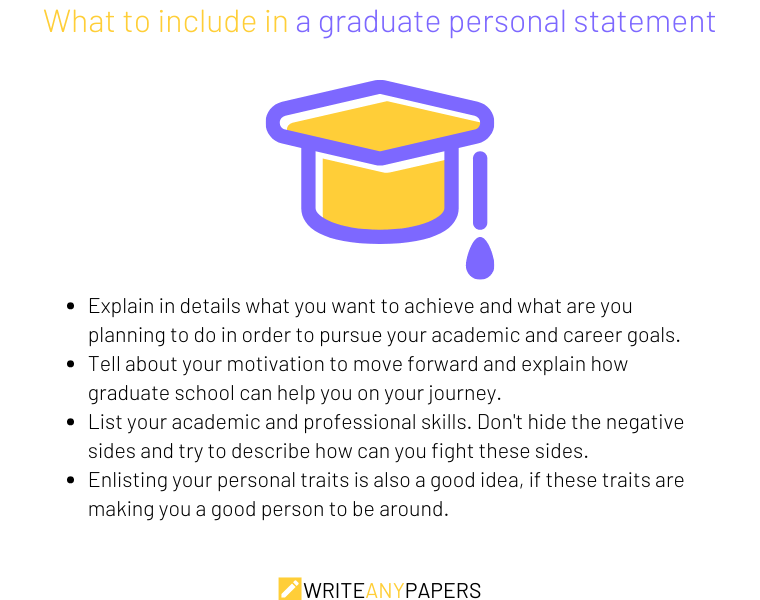 Your graduate personal statement needs to paint a complete picture of you as a person, scholar, and professional, so anything that describes those three sides of you belongs to the statement. You can start by telling a short history of your prior education with everything you have achieved in the education field so far. Of course, it helps to have an ideal record, but even if you have parts in your academic record you're not too proud of, don't try to hide them – present them with an honest explanation about the obstacles you faced on your way. Listing your skills is also a good idea, both professional skills that make you a better scholar and soft skills that make you a better person to be around. Think of it more as of writing a self-assessment paper and you'll get the right idea.
Exclude this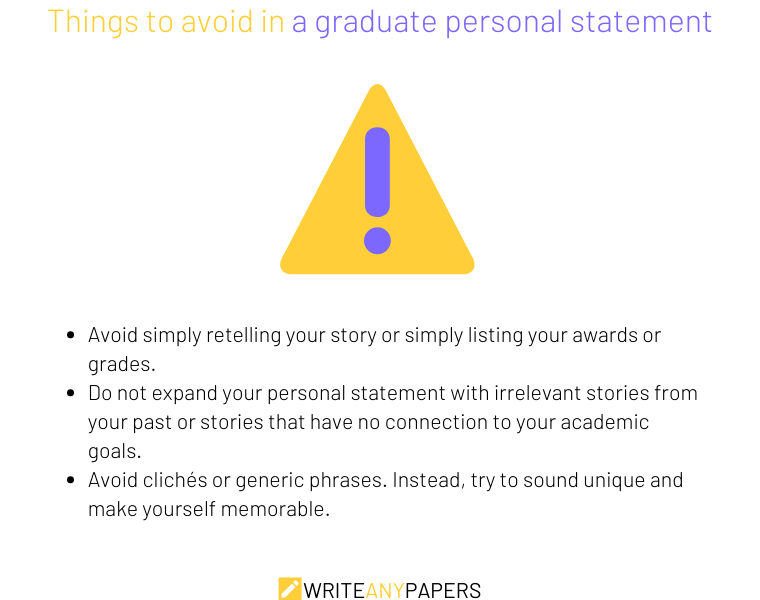 Avoid simply retelling your grades or awards won during the course of education – the reviewing board can easily find that information in other parts of your application. Don't try to expand your personal statement by including anecdotes from your childhood or personal stories that have no connection to your scholarly pursuits – those stories can be told in person once you're accepted. Another thing to leave out of your statement are various clichés and generic phrases without any personalization.