How To Write A Self-Assessment Paper?
21 Jun 2018
There are many written assignments a student will encounter throughout their education journey, but few of them will be as challenging as a self-assessment paper. Find out why exactly it is not easy to write a self-assessment essay and how to succeed in this challenge.
What is self-assessment paper?
What makes a self-assessment paper different from any other written assignment is that in order to write this paper, you don't need to do any scholarly research. The content of your paper will be fully based on your personality, your strengths and weaknesses, your accomplishments and failures. Pro tip: we recommend you to use write my paper services in order to secure an A+ self-assessment paper for yourself!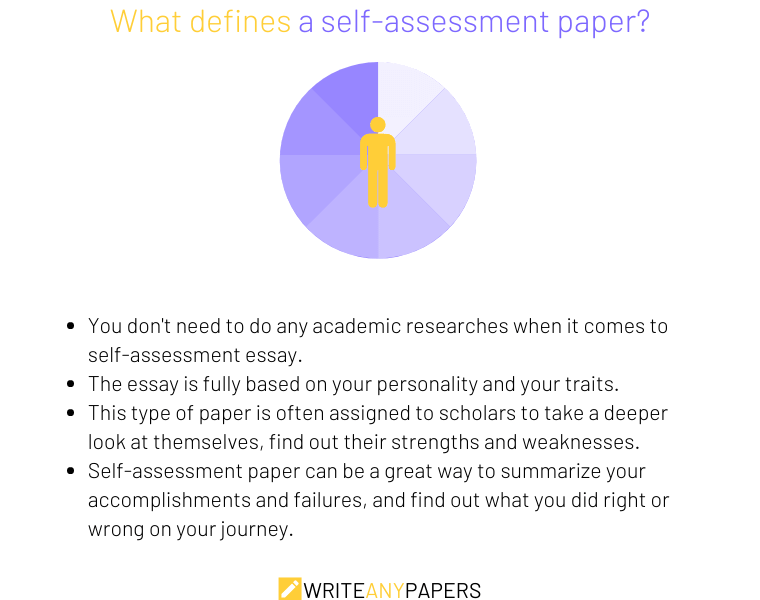 The self-assessment essay has a very clear goal: by taking a deep look at yourself, you can see how far along you've come, how much you have achieved, and what you can do to achieve even more. The self-assessment paper helps you realize what you've done right and wrong on your journey and the changes you can make to your personality and work to enjoy plenty of future accomplishments.
This type of work is often used by scholars, but students can also benefit from researching their personality and achievements. You can write a self-assessment essay even when you haven't been assigned to do it by your professor: whenever you're having doubts about your self-worth or wondering what has gone wrong when you couldn't achieve what you wanted, a self-assessment paper will serve as an insight into your journey so far, where everything you accomplished and failed to accomplish is perfectly visible.
Self-assessment essay writing steps
1. Outline your thesis
Even though a self-assessment paper is not like any other written assignment you've ever encountered, a correct structure of the paper is an essential requirement for the success of your work. Prior to writing an outline, think about the content you want to include into your paper.
A good idea is to choose the criteria for self-assessment before creating an outline. Are you doing a self-assessment for your employee or are you evaluating the way you approached completing set goals? In these two cases, the criteria for assessing your achievements will be different and will impact the outline.
In most self-assessment papers, the outline serves as an introduction, which is why you can give a little description to each section that will also serve as an introduction to each part for the reader.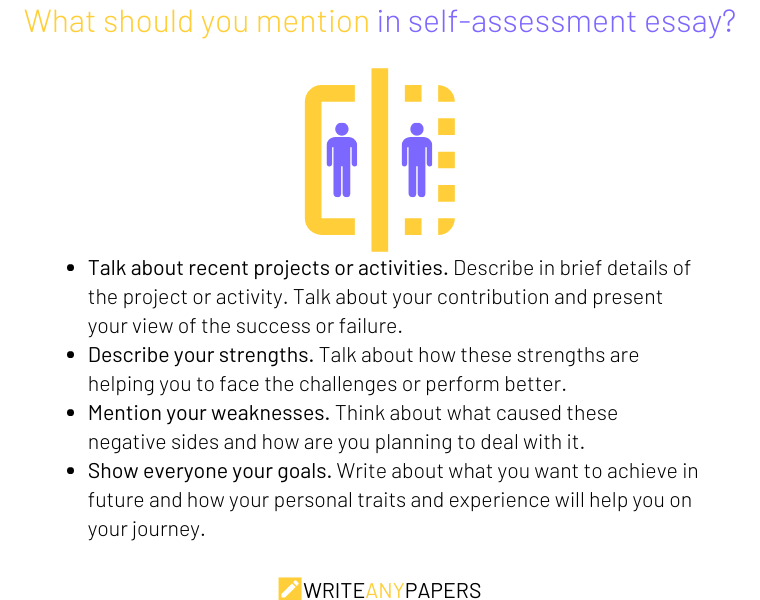 2. Describe your performance on recent projects
The idea here is similar to writing a statement of purpose but with less efforts. If it's come to a point where you need to write a self-assessment paper, it means that you've achieved quite a lot. The first thing the reader wants to see in the paper is your reflection on the accomplishments in the recent project. Give some details about the projects: who they were for, who took part in the project, what was the deadline and how you personally did on the project. Describe both the ways you contributed to the outcome of the project and how you view the success of your contribution.
3. Describe your strengths and weaknesses
An honest evaluation of your strengths and weaknesses is an essential part of any self-assessment essay. Talk about your strong sides and weaknesses without a connection to the recent projects, but also mention how those qualities help you complete those challenges. Here you can talk about the past events that helped shape you as a person; even if not all of those events have a positive outcome, knowing what contributed into your personality traits is important for those who will read your work. If the past events have led to you learning new skills or truths about yourself, mention that too.
4. Describe your goals
You may be perfectly happy with what you've achieved so far, but if you don't have any goals, you're coming off as an unambitious person. Talk in detail about what you want to achieve in the nearest or even distant future and which of your personal qualities and past experiences will help you get to where you want.