How to Write An Ethnography Paper: A Detailed Guide with an Outline
10 Jun 2018
Ethnography is a branch of science that studies the life, culture, beliefs, and communities of a particular ethnic group of inhabitants. Ethnography sound fascinating on paper and is even more fascinating in reality, which is why many students are excited to be tasked with writing an ethnography paper for their History, Social Studies, or Anthropology class. However, an ethnography paper isn't an easy task at all, because there are so many sides to any ethnographic concept that you need to take into account when working on a paper. Luckily, with our 5 tips, every student who says "I don't know how to write my paper" will ace this challenge!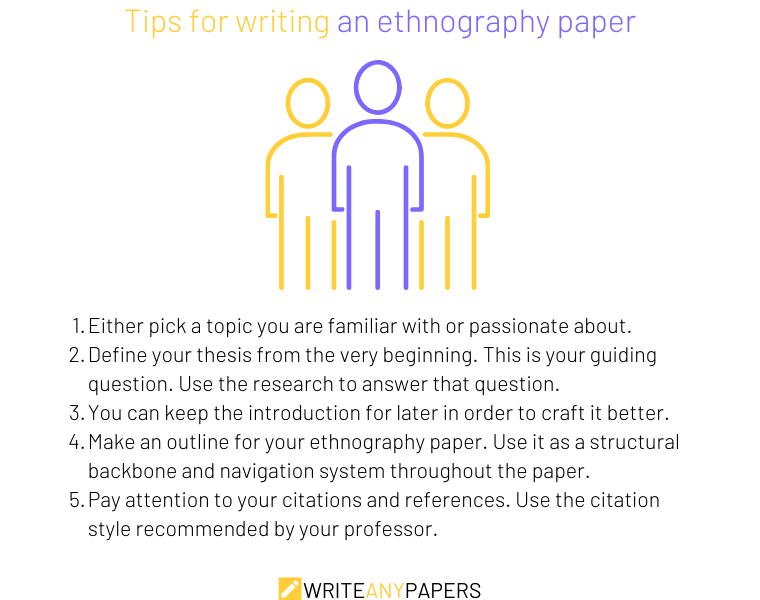 Step 1. Explore
The easiest way to make sure your writing goes smoothly and brings good results is to choose the right topic. Often students are given ethnography paper topics by their professors, but if you have any say in deciding what to write about, we recommend picking a topic that you're either familiar with and passionate about or a topic that you've never worked with but that has captivated you from the start. It can be a whole group of people or even just an idea – as long as it provokes your thoughts and stimulates you to do more research that will then be turned into a quality ethnography paper.
Step 2. Define your thesis
Choosing a topic for your paper is important, but you can't write a several-page paper on a topic that is too broad. To write a good paper, you need to significantly narrow down your topic to a single thesis that will serve as the basis for your whole work.
Another common concept for writing an ethnography paper is often referred to as the guiding question. Ideally, you should set the guiding question after doing the research and use the thesis of the paper to answer that question. These two concepts will help you focus better on the subject of your work without getting distracted by minor issues.
Step 3. Introduction
In most ethnography paper writing guides, you will discover that it's recommended to start your paper with an introduction that you will then use to keep to the structure of the paper and stay on topic. This strategy for writing a paper is completely viable and will deliver the expected results. However, many students find that they are more comfortable with leaving the introduction for later when they know for sure what their paper is about and can introduce its thesis in several sentences.
Step 4. Outline
A correctly written outline is like the backbone of the paper – you can always refer to it when you're not sure what to do next and it serves as a navigation system for the potential readers of your paper.
The most common outline of an ethnography paper includes methodology, data analysis, and conclusion. Pay special attention to the methodology, where you need to introduce your readers to the ways you gathered information for the research and what difficulties you encountered. Present your findings with interpretation in the data analysis part, and summarize your findings briefly in the conclusion.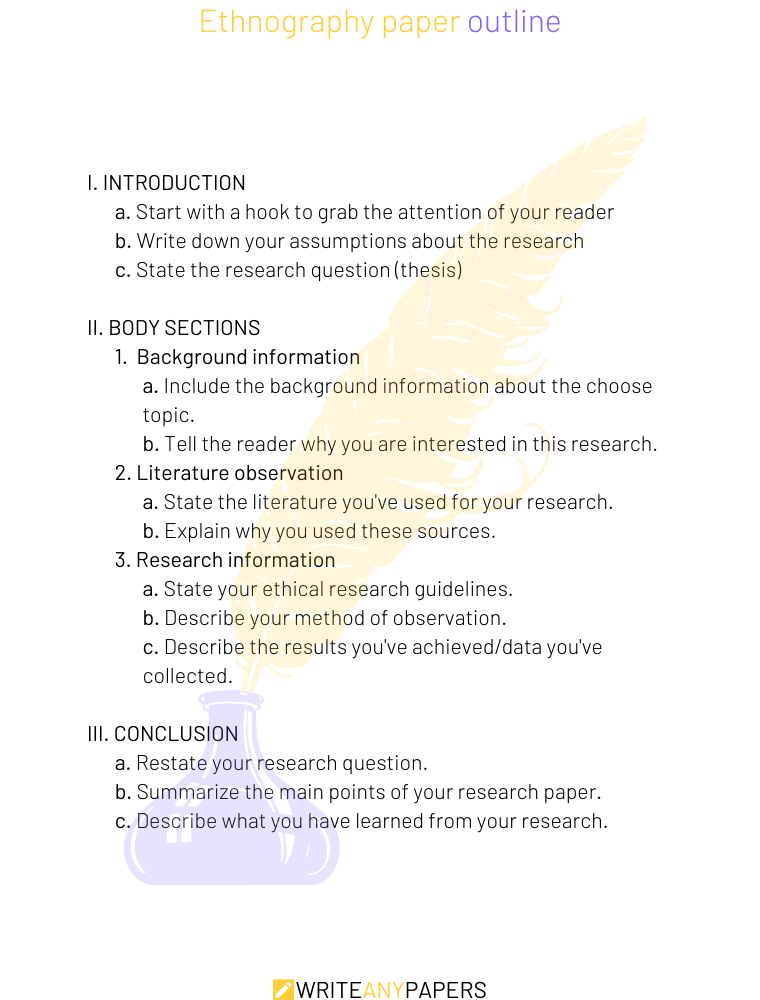 Step 5. Final draft
After you finish working on the three main parts of your ethnography paper outline, move on to the additional sections like title page and bibliography. Pay special attention to the references – many scholars specifically look for this part in any paper. Finally, proofread your work or have someone proofread it for you to prevent grammar or spelling mistakes from getting you a perfect score.